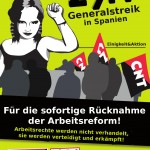 SPAIN: On March 29th, it's general strike in Spain. CNT had taken the initiative to call it. Comrades, we wish you all the best and so much more. May the force be with you! Here's CNT's english statement on 29M. If you read Spanish, click here!
In Warsaw, Berlin, Frankfurt and Stuttgart, and The Hague, M31 groups and others have organized rallies in support.
Right after 29M, CNT will again take to the streets on M31. There will be rallies in Toledo, Aranjuez, Zaragoza, Badajoz, Castro Urdiales and Murcia. Plus EHKL's rally in Bilbao and GLAD's seminar in Madrid. Click!